Lose the File Cabinets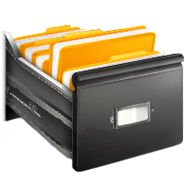 Integrate our Enterprise Content Management system into your IT infrastructure to keep your organization's critical files organized.
Are all of your company's files filed away in file cabinets? Do you have to dig through hundreds of file folders to find the document you are looking for? Do you pay for the inconvenience of off-site storage for your files? The IT professionals at NetWorthy Systems have a solution. Our Document Management system presents useful options for organizations that are looking to find a digital solution for document retention.