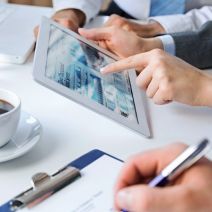 Mobile devices are changing the way that businesses look at the workforce, but one of the main draws (and possibly detriments) is how the industry continues to change rapidly as new solutions are made available. In order to maximize your business's efficiency with mobile devices, it's important to consider these three trends shaping the way that organizations handle modern mobile device management.
Bring Your Own Device (BYOD)
Perhaps the biggest influence that mobile devices will have on your business is the fact that employees are bringing them to the office. In fact, some employees prefer to use their own personal devices for work rather than the workstations that are provided by your organization. This practice is known for increasing employee satisfaction, and people are usually more likely to make sure their own personal devices are working properly when faced with a technology issue.
While allowing employees to use their own devices can save your organization some cash when it comes to purchasing new hardware and software (by not having to), you also have to consider the ramifications of allowing users to use their own smartphones, laptops, and tablets on your network without any semblance of restraint. It could have an effect on the security of your network, and especially the productivity of your workers.
Mobile Device Management
In order to resolve the issues proposed by a BYOD policy, it's important to make sure your organization has a process set up that allows for the management of all mobile devices that hold (or have access to) corporate data. Blacklisting apps is helpful in keeping certain ones that collect personal information from accessing this data, while whitelisting allows you to pick and choose which ones have this kind of access.
In particular, you want to have control over what applications have access to your business's corporate data, as well as the ability to remotely wipe mobile devices that hold this data. If a hacker were to get physical access to the device, you're making it much easier for hackers to steal this information. Therefore, you need the ability to get rid of it in an instant, should a device go missing or is lost.
Cloud Services
More businesses than ever before are turning to the cloud for the storage and deployment of their mission-critical systems, and it's easy to understand why. They want to make sure that their employees always have access to the information and applications they need to ensure productivity continues without a hitch.
The only issue is that while a cloud platform offers a significant return on investment, integrating a quality cloud solution for your business is knowledge intensive and requires the attention of a trained professional. The same can be said for all aspects of the mobile device revolution. Thus, before integrating any type of mobile device or BYOD policy, it's recommended that you contact the technicians at NetWorthy Systems. We can walk you through the requirements of integrating mobile devices, and equip your business with the infrastructure that's most hospitable for your success. Give us a call at 877-760-7310 to learn more.