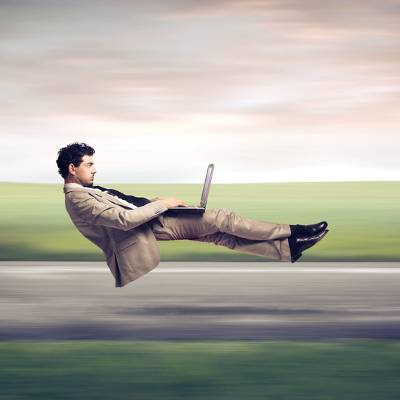 In the same way that there are two sides to every issue, there are two sides to every IT department. IT departments of today are expected to both maintain IT infrastructures and implement new money-making solutions. It's like IT is a road with two lanes - a fast lane and a slow lane.
IT in the Slow Lane
Most companies today still use IT infrastructures made up of servers and workstations running legacy software. In fact, in a recent survey of IT professionals from Avanade it was discovered that 36 percent of an IT staff's time is currently spent managing and maintaining legacy systems. Having over one-third of your IT staff's time spent keeping your company's system operating smoothly may take up a higher portion of your organization's operating budget than what you'd prefer. In today's fast-paced business world there are solutions available that can get your business out of this IT slow lane.
One fast-paced solution is cloud services. Whenever a company migrates its business applications over to the cloud and utilizes cloud data storage, the responsibility to maintain the infrastructure in use now lies with the cloud computing company. The more data that your company moves to the cloud equates to less time that your IT staff will have to spend in the slow lane maintaining equipment and overseeing maintenance. With help from NetWorthy Systems, it's entirely possible to migrate your entire IT infrastructure to the cloud, which is like doing business in the faster commuting lane!
IT in the Fast Lane
This is the lane that you want your IT to be in. Doing business in the fast lane is great because you get to fly by your competition trudging along in the slow lane. The IT fast lane is one of innovation. When your IT staff spends their time in the fast lane they're constantly looking for and implementing the latest solutions. These new technology solutions will save your business money and provide your company with an advantage over the competition. IT life in the fast lane is much more exciting than having to spend one's time performing maintenances and fixing the same problem over and over again.
NetWorthy Systems can help move your business to the technology fast lane. If you have an IT employee that's burdened with system maintenances and not able to spend time finding new solutions that will create opportunities for your business, then we can help by providing you with a way to outsource these slow-lane activities. NetWorthy Systems can handle many of these mundane IT maintenances for your business remotely with our managed IT services, and we can be counted on to perform physical maintenance at a flat-rate that you can budget around.
NetWorthy Systems can also be your trusted IT advisor, which is like a traffic cop directing your business into the fast lane. Once you're in the fast lane, we will then come alongside your car-of-a-company with our flashing lights and escort you to your destination of higher profits! You can reach out to us at 877-760-7310 to get the IT escort you need to succeed. We can take you to where you want to go by taking time to get to know your company's goals and technology needs, and then recommending and implementing the latest fast-lane solutions.
This transforms the age-old stereotype of technology being a "thing you need" that's always in need of fixing, to a tool that will give your company organizational advantages beyond that of your competitors. The competitive world of business is much like a race, and in this race we can help your company go fast! Because in the race of competitive business, "If you ain't first, you're last."