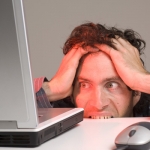 Here's a scenario: Tom's computer is acting up and getting a blue screen error a couple times a day. Obviously this is a problem because it drastically cuts into Tom's efficiency. Tom is a smart guy though, so his manager asks him to see if he can fix it before calling support and putting in a ticket. After all, tech support costs money. Tom spends about 4 hours across the next few days researching the issue, attempting a few things, and finally fixes it. Way to go Tom! You just saved the company money... or did you?
Although Tom resolved the issue on his own, he did so at the expense of the company. What did you hire Tom for? While Tom did a noble thing and stepped outside his typical day-to-day with good intentions, Tom's most valuable doing the job he's good at. The time that Tom wasn't working (or wasn't able to work when his computer blue screened) was time that you were paying Tom to not do work. This isn't Tom's fault of course, but Tom was at work on the clock and not able to perform his job.

That's ok through, right? Tom did fix the issue so now he can work more effectively without the blue screen interrupting him. You didn't need to call support, so you didn't need to get a bill for fixing Tom's computer. Even though Tom is a smart guy, he did have to do some research and trial and error to fix that issue. It's likely tech support would have resolved the issue much faster.

Take into consideration that since the issue was intermittent, Tom still had to deal with it for a few days while troubleshooting and trying different things to fix it. Sometimes issues like this can be chased around forever if you don't know exactly what to do. On top of that, Tom lost a lot of productivity the whole time.

Putting the math together, Tom cost the company a lot more dealing with the issue and attempting to fix it than having tech support do it. Add up payroll, taxes, and potentially missed opportunities and you've got a pretty hefty bill.

NetWorthy Systems offers all-you-can-eat technical support for clients that give your end-users the ability to call and get remote technical support for a flat-rate fee. This enables your staff to resolve issues without costing your business. This can significantly decrease the amount of time wasted on IT issues and general support questions because your staff wouldn't need to wait for approval to get their issue resolved, which means they are back to work much quicker.