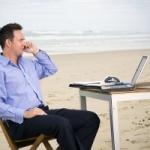 Business owners and executives aren't always chained to their desk. Sometimes opportunities take you out of the office, out of town, and on the road. Traveling to vendor shows, conferences, training, expos, or even hitting the greens for a few days doesn't mean you need to be totally inaccessible. It's becoming increasingly simple to for the traveling business person to stay connected and get things done even when not at the office.
Stay in Contact – Obviously the most fundamental business tool for any executive is the cell phone. If you haven't jumped into the smartphone market, now is the time. Get your email, sync business contacts and your calendar – a decent smartphone can almost completely fill in for a laptop depending on what you need to do to run your business.

Get Online – Another great feature of modern smartphones is their ability to surf the web. This requires a data plan from your cell phone carrier, and in most cases, they only offer limited amounts of bandwidth, so be careful of overages. Most carriers even offer a tethering service, allowing you to connect your phone to a laptop and share the internet access. That way, if you need to get more done than a smartphone can handle, you can do so with Internet access. Of course, many hotels, cafes, and other public places offer free Wi-Fi access – you will just need to make sure your laptop has up-to-date security.

Remote In – This is a great solution for users who work from home, but if you are on the road with a laptop or netbook and have a decent internet connection, you can access all of the apps and data on your workstation at the office as if you were there. Forget about needing to install and attempt to run hefty business applications from your netbook. Get access to all of your data without the risk of letting confidential data getting stolen. Everything will remain on your network back at the office.

Getting ready for a business trip and want some help getting your network set up to allow remote access? Give us a call at 877-760-7310 and we'll help you get ready to go mobile. Remember though, if you are on vacation, at least try to take a little time to enjoy yourself without being glued to a screen!