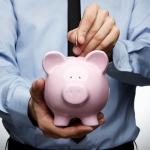 Business owners, this one is definitely for you. You've probably experienced the fact that shaving expenses here and there can lead to more flexibility and long-term savings, but at what cost? Are you limiting your company by nixing those extra services and costs? Sometimes you can get more and still save money. Let's look at a few ways Beaumont businesses can do just that.
Switch to VoIP
Voice Over IP provides a lot of really cool features for businesses like being able to take your work handset anywhere, plug it into the Internet and make and receive calls as if you were sitting at the office. You don't need to run new phone lines when you want to install a new desk in the office either, but the real savings happen on your monthly phone bill. Businesses can see up to a 60% decrease over their traditional telecom costs!
Trade your Merchant Account for Paypal
Merchant accounts can be pretty expensive, and there are plenty of extra fees when you want to do more with them, like take online payments. Paypal generally removes all of that with no monthly fees. There is a slightly higher 'per transaction' cost with Paypal, so you would want to investigate that, but for a non-profit organization Paypal has some special offers to sweeten the deal. It's simple, secure, and extremely easy for both you and the consumer.
Scrap the Fax Machine
It's sometimes surprising to see that Fax still exists in a world dominated by email. If you really do need to accept and send faxes, consider centralizing your fax solution. Instead of a traditional fax machine, a fax server can take received faxes and convert them to PDF and email them to the correct recipient. This saves paper, phone lines, and big, bulky hardware.
Take Advantage of Open Source Software
Open Source software sounds scary - at least that's what big-name software companies want you to think. There are some cases where free or cheap open source software will do the job and even out perform the more expensive commercial equivalents. Often there is plenty of support and community-driven development that continues to grow and support the open source solution.
Meet Over the Web
Not all meetings need to be in person, and if your business needs to dish out cash for driving expenses, you can greatly reduce the amount you spend by doing more online meetings. Web conferencing apps are easy to use and work great for sales meetings and collaborating, and are typically more convenient for all parties involved.

Looking for more ways to save money and squeeze more out of your technology? Contact NetWorthy Systems at 877-760-7310 and we'll look at your current solutions and provide ways you can trim regular costs, reduce expensive downtime, and get more done!