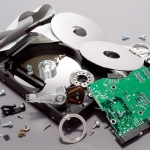 "As a business owner, when should I worry about implementing data backup for my company?"

The answer comes in the form of another question, "How much do you value your business?"
It doesn't take much to cause data loss. A simple power outage at the wrong time, a hardware or software malfunction, and even simple user error can be the source of a disaster. Businesses put a lot of time into documenting processes, collecting data on customers, and building internal documents and templates so that day-to-day operations can run smoothly. These things don't just fabricate out of thin air - they are the end result of a lot of time and money.

Let's take a theoretical business example:

A small business consultant office has four computers and a server. Let's assume the four users process about 20 clients per day, documenting client data, ongoing projects, contracts, and an application runs from the server that collects and manages contacts and accounting information. Things are a little ad hoc and different documents and data are stored on the individual workstations and not in a central repository like on the server, minus the CRM system.

As mentioned before, a lot of things can go wrong that cause data loss: viruses, power surges/outages, lightning, fire, theft, hardware malfunctions, etc. The list goes on and on. Let's assume our theoretical business consulting firm experiences a virus that causes a hard drive in one of the computers to become unusable.

This isn't even the worst-possible scenario, but that means any data that was exclusively on that workstation would need to be recreated. Current projects that were mapped out on that computer would need to be put on hold, any contracts and client data stored exclusively on it would be lost. Data would need to be reentered and reorganized. This data could be the culmination of work over the course of years. You can't recreate that overnight - it takes a lot of time and money to rebuild.

Before long, the amount the company spends on restoring that data manually could be thousands. Deadlines would need to get pushed back, and reputation could drop due to the issue. This is why studies show that more than half of all companies go out of business within a year after a major data loss disaster.

Ask yourself, how much do you value your business and its data? Are you confident that your business could resume normal operations quickly after a major loss of data?

Contact NetWorthy Systems at 877-760-7310 for more information on protecting your business from a disaster, and stay tuned to our blog for even more information on data backup and disaster recovery for small businesses.