Dual-Monitors: Is Two Really Better Than One?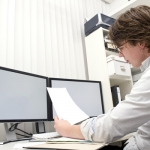 Making the transition from a single monitor to a dual monitor may be one of the best technological enhancements you can do for your desktop. This relatively cost-effective upgrade can offer a lot of extra productivity and allow your employees to get more done.
Adding dual monitors to your office's PCs are an enhancement that within a matter of days, most people cannot imagine how they were able to be even remotely productive without having two monitors.

In fact, a University of Utah study found that persons using multiple monitors scored significantly higher in every productivity measure and that multi-monitor users got on task quicker, did the work faster, and got more work done with fewer errors compared to persons using a single monitor.

To put this into financial terms, a Canadian hospital's Archiving Records Department reported that records were entered between 1.5 to 3 minutes faster. With a team of 20 Clinical Coders, their new efficiency saved the hospital nearly $6,000 per year in payroll, overtime, and other labor related costs.

Adding a dual monitor system is an efficient way to enhance your company's productivity. Just as important, the majority of those who have adopted the system have been extremely pleased with the benefits. Those who like to keep an eye on their correspondence can have e-mail open while working on other tasks without having to alt+tab back and forth. You can be walking through a tutorial while navigating through the new software at the same time. Those who work in data entry can enter data from one screen into another without any navigation.

It's important to make sure that your computer is compatible with a dual monitor system. NetWorthy Systems can give you any information about hardware upgrades or additions that you need to run a dual monitor system.

If you're interested in dual monitors, contact NetWorthy Systems at 877-760-7310 for more information.
About the author