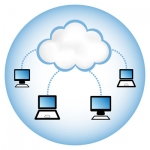 Businesses these days depend on having reliable, fast desktop computers. The trouble is, these high-end desktops offer plenty of resources that never get touched, making them underutilized. Huge hard drives and extremely fast CPUs mean each desktop has more capabilities than most users will ever tap into.
Although computer prices have been dropping rapidly over the years, it's still important to not pay for resources you will never utilize. Of course, you can't hold on to old technology forever as it becomes outdated and expensive to run, hard to maintain, and increasingly slow. To combat this, many Beaumont businesses are adopting technologies that leverage the ratio between cost and performance. One of these technologies is called desktop virtualization.

Desktop virtualization is where all of the desktop heavy lifting - the processing, storage, and software capabilities, are all handled on a centralized server. Many businesses have been using something very similar to this called a terminal server for remote access. Think of this as a terminal server for your entire organization. Everything runs from a single, powerful machine that divides out resources for all of the users. Your users can connect to it with pretty much any device, from low-end desktops, laptops, tablets, and even specialized low-cost terminal clients. Desktop virtualization makes it incredibly easy to manage issues and has enormous benefits to data backup and security initiatives. Imagine only needing to worry about supporting one main device instead of each and every workstation. Imagine having a couple extra low-cost laptops or client terminal PCs in storage to swap out in case of a hardware malfunction, knowing IT doesn't need to configure any software or hardware to get things back up and running.

It doesn't matter what size your organization is; desktop virtualization works great for small and medium-sized businesses, and large enterprises have been taking advantage of it to save incredible amounts of money on hardware and management costs. The real question though, when adopting a new system, is performance. Will your staff still be able to work as effectively on a virtualized desktop environment?

In most cases, that answer is yes. The technology has gone a long ways, and on a good network, most applications run seamlessly, especially standard business applications and productivity suites. Huge strides have been taken in the entertainment industry to deliver huge amounts of data and multimedia content to consumers, and most business applications rarely need a fraction of the bandwidth to perform smoothly.

Desktop Virtualization can be a huge cost-saving next step for businesses of any size, and especially bring the costs involved with expanding and maintaining much lower. Want to learn more about Desktop Virtualization and find out what it can do for your organization? Give NetWorthy Systems a call at 877-760-7310 and we'd be happy to explore the possibilities of virtualization for your company.