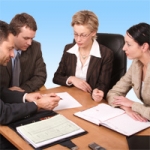 As a business owner, if you've ever looked into training seminars, you've probably been taken back by the price. Your industry likely has a whole slew of organizations dedicated to business training, and there are often training courses on specific software packages you use in your day-to-day line of business. Your employees may know full-well how to do their job, but are they doing it as effectively as possible in order to drive business forward?
Think about basic productivity software like your word processor and email client. Sure, they are fairly basic, easy-to-use applications, but are your employees taking full advantage of all of the features that can make them super effective at their job? Good employee training can improve and resolve a lot of issues, such as:


Employee ROI- When you invest in your employees and their development, they return that investment many times over.
Employee Retention - Would you rather build onto the skills of your existing employees or have to start over with new ones? Letting employees improve their skills and become better doesn't just help you, but it leads to happier employees, especially with today's job market.
Better Performances - Improve your employee performance. Some companies see productivity increases by up to 230%.
Higher Quality - Making happier customers can be achieved with knowledgeable employees simply because your product and/or service will improve. This can help give your business a competitive edge.
Flexibility - Trained staff can better take the tools they use and bend them to their needs. This is sometimes a part of 'thinking outside the box.' Plus, as your business needs evolve and change, so can your staff.

Don't forget that technical skills aren't the only ones you want employees to have. Sales training, project management training, customer service training, and soft skills like communication and leadership are all important for your staff.

There are plenty of other benefits for training your employees, but above all else, it makes good employees better (and happier) when you treat them as your number one asset.